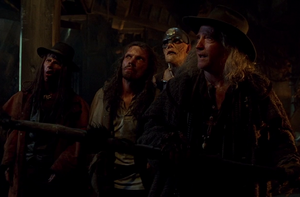 The Angel Gang appeared in 1995's
Judge Dredd
as an infamous and feared group of criminals who are responsible for a near endless string of crimes with a trademark for zealotry and being unnecessarily violent in their dealings. Like many of the characters who appeared in the movie, they
looked
much like their comic-book counterparts but acted very differently. In the movie, the Angel Gang were represented as religious fanatics and cannibalistic.
While passing over the Cursed Earth the Angel Gang shoot down a ship carrying convicted criminals from Mega-City One including Judge Dredd and Herman Ferguson The group of cannibalistic Mutant scavengers capture Dredd and Herman who are now at their mercy.
However, a squad of Judges tracks Dredd to the Angels' camp in the Cursed Earth and a battle between the law and the lawless eventuates as a result, killing Pa Angel, with Dredd killing Link and Junior and most of the Judges. Former Chief Justice Fargo arrives at the battle as well just in time to save Dredd's life from the last one, but is mortally wounded by Mean Machine Angel in the process. Mean was afterwards killed by Dredd, ending the conflict.
Ad blocker interference detected!
Wikia is a free-to-use site that makes money from advertising. We have a modified experience for viewers using ad blockers

Wikia is not accessible if you've made further modifications. Remove the custom ad blocker rule(s) and the page will load as expected.