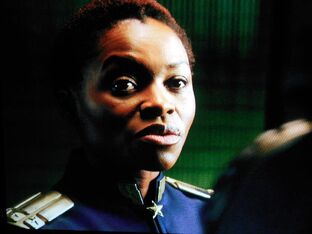 The Chief Judge is the head of the Judge's Council (The Council of Five). She runs the Justice Department.
Her name is never mentioned, so she could be any of the female Chief Judges. If this is a different continuity from the comics, she might be a new character. However, since Judge Volt was included as a side character and homage to the original character, and Judge Hershey was mentioned, it is possible that this Chief Judge is named after another famous Judge. In appearance, she is a combination of Chief Judges MacGruder and Silver, and the setting (the boundary wall and the Fergee memorials are both referred to) would place the time of the film in Mega City history as Macgruder's first period in office.
If there is a sequel, she may return and we may learn more about her character.
Ad blocker interference detected!
Wikia is a free-to-use site that makes money from advertising. We have a modified experience for viewers using ad blockers

Wikia is not accessible if you've made further modifications. Remove the custom ad blocker rule(s) and the page will load as expected.