Creating Graffiti is a Ritual or Custom that is Performed By Gang Members in Order to Become Innitiated into a new Gang. Even in the 22nd Century this Cusom Continues its known as Tagging and Making one Individual Graffiti Mark on a structure is called a Tag. Other Gang Rituals may Included getting a Tattoo on your body Such as the case with Peyote Kings of Peachtrees building located in the Peach tree block.
Notable examples of Graffiti
Edit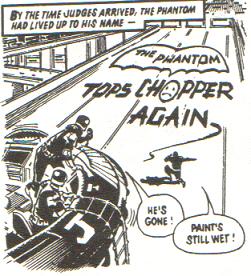 Chopper -Found at Peachtree block
Kenny Who? - Found at peach tree block
Judge Minty is the Law! - found at peach tree block
Phantom - the trademark of the robot grafiti artist of the same name
Ad blocker interference detected!
Wikia is a free-to-use site that makes money from advertising. We have a modified experience for viewers using ad blockers

Wikia is not accessible if you've made further modifications. Remove the custom ad blocker rule(s) and the page will load as expected.