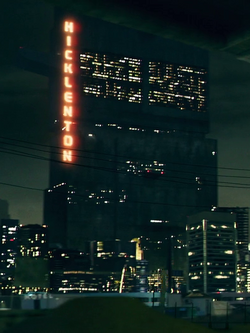 Hicklenton Block is a large block archology in Sector 13 of Mega-City One which featured in the 2012 film Dredd. It overlooks the large highway on the approach to Peachtree Block.
Hicklenton Block was named after the late John Hicklenton aka John Deadstock, a British comics artist who worked for 2000 AD and drew many Judge Dredd stories.
John Hicklenton's life with Multiple Schlerosis was depicted in the documentary Here's Johnny which was lauded by the British Medical Journal and won two Grierson's Awards[1].
References
Edit
Ad blocker interference detected!
Wikia is a free-to-use site that makes money from advertising. We have a modified experience for viewers using ad blockers

Wikia is not accessible if you've made further modifications. Remove the custom ad blocker rule(s) and the page will load as expected.