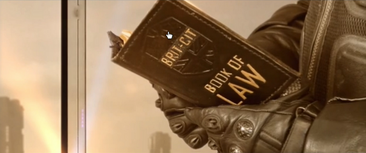 In the movie "Dredd (2012 film)", the Megacity Municipal Code is the law code used by Mega-City One. Judges are allowed to offer slight reductions in sentencing.
The code was seen in book form in Judge Dredd (1995 film) and Cursed Edge .
Examples quoted from the movie:
Attempted murder of a judge (life in an Iso-Cube without parole or Death)
Manufacture and distribution of narcotics (?)
Multiple homicide (life in an Iso-Cube without parole / Death)
Murder (Death)
Resisting Arrest (Death)
Possession and use of controlled substance (2 years Iso-Cube)
Prostitution
Vagrancy (3 weeks in an Iso-Cube or let off with a warning, if a higher priority crime is being investigated and the vagrant is not in the same place when the Judge or Judges return)
Abetting a Felon (5 years )
Obstruction of Justice, e.g. interfering with a crime scene, preventing a Judge or Judges from entering a building or withholding information relevant to a case (Automatic 5 years in an Iso-Cube)
Ad blocker interference detected!
Wikia is a free-to-use site that makes money from advertising. We have a modified experience for viewers using ad blockers

Wikia is not accessible if you've made further modifications. Remove the custom ad blocker rule(s) and the page will load as expected.