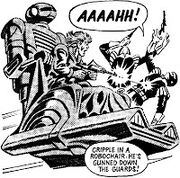 Robochairs were a type of floating wheelchair robot that was first released in the "
Robot of the Year
" show.
One Robochair was stolen at the show and was used as a mode of transport as a perp shot his way through the masses, he shoots a valve full of Myclon Gas killing almost everyone at the show includeing a Judge.  
Dredd  who had survived the gas, hunted down the perp who was still in the Robochair and shoots the Robochair making the man fall and drown in a river.
Ad blocker interference detected!
Wikia is a free-to-use site that makes money from advertising. We have a modified experience for viewers using ad blockers

Wikia is not accessible if you've made further modifications. Remove the custom ad blocker rule(s) and the page will load as expected.