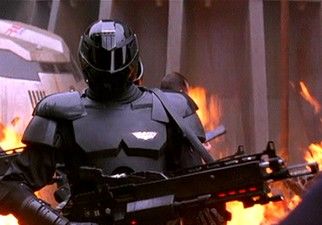 The Special Judicial Squad (SJS) is the Internal Affairs unit of the Justice Department. They are the Judges that judge the Judges.  SJS investigates allegations of corruption, unjudicial conduct and criminal activity within the ranks of the Mega-City Judges.
In the Judge Dredd Movie they apear right after Judge Dredd Blows up a car. Judge Dredd thinks its because he blew up the car , but he eventualy finds out its because he has been acused of murder. Eventually he is convicted of this charge and sentenced to Life in the Aspen Penal Colony.
Ad blocker interference detected!
Wikia is a free-to-use site that makes money from advertising. We have a modified experience for viewers using ad blockers

Wikia is not accessible if you've made further modifications. Remove the custom ad blocker rule(s) and the page will load as expected.