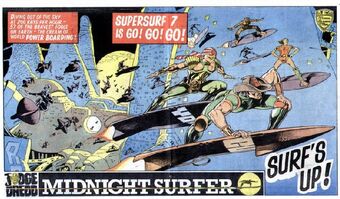 Sky-surfing is a fictional sport practiced in the world of Judge Dredd, often featuring the champion sky-surfer Chopper. It is like ordinary surfing, but is done on a surfboard rigged with anti-gravity that floats in the air. The surfer stands on the board and controls its speed with a foot pad on the board's surface. Whilst not illegal in and of itself, it is implied that there is a minimum height limit in Mega-City One as low level Sky Surfing is a listed crime.
Championship sky-surfing, such as in the "Oz" storyline, often involves racing on sky-surfboards through obstacles such as the rigging of a sailing ship or a factory's machines. As can be imagined, it is a very dangerous sport.
In The Rookie's Guide to Crazes, a supplement for the Judge Dredd D20 System RPG, Sky-Surfing is the first craze covered. It reveals the history of the sport (such as that it was invented by a juve named Bruce O'Connel in Oz) and details the various championship races:
The King's Challenge, held in Luxor City, one of the Four Wonders of the Modern World
The Shogun Cup, held in Hondo City in Japan
The Le Mans Open, held in Euro-City, not regarded very highly because of the many difficulties the location presents, such as that speaking anything other than French is a crime
The Montezuma 3000, held in South America
The Henley Regatta, held in Brit-Cit
The Supersurf, the grand-championship tournament and most important race of all held in Oz from Supersurf 8 onwards.
Other Skysurf events of note (as mentioned in 2000 AD) are:
The All-Europa Crown
The Baltic Masters
Notable Skysurf Champions[edit]
Edit
Dak Goodvibes, winner of Supersurf 1
Yogi Yakamoto,winner of Supersurf 6
Marlon 'Chopper' Shakespeare, winner of Supersurf 7 & 13
Jug McKenzie, winner of Supersurf 8, 9 & 10
WipeOut Jones, winner of Supersurf 12
Cyril 'Lord' Bungay, winner of The 2109 All-Europa Crown
Jurgen Hasslinger, winner of the 2110 Baltic Masters
Ad blocker interference detected!
Wikia is a free-to-use site that makes money from advertising. We have a modified experience for viewers using ad blockers

Wikia is not accessible if you've made further modifications. Remove the custom ad blocker rule(s) and the page will load as expected.